Healthcare Training Institute -

Quality Education since 1979
CE for Psychologist, Social Worker, Counselor, & MFT!!

Section 4
Conduct Disorder Symptoms
| |
The video below is to a section of a seminar lecture given by an instructor.



Below are the PowerPoints that accompany the instructor's lecture for this section.
Question 4 found at the bottom of this page.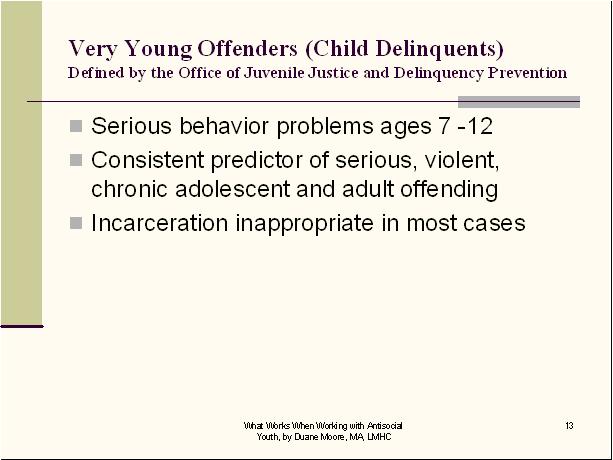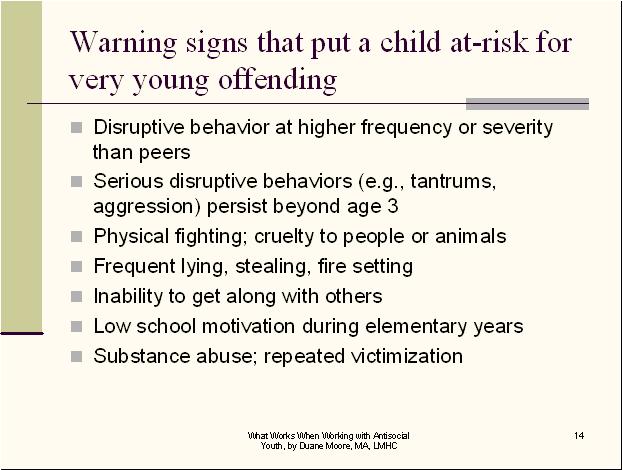 Peer-Reviewed Journal Article References:
Atherton, O. E., Lawson, K. M., Ferrer, E., & Robins, R. W. (2020). The role of effortful control in the development of ADHD, ODD, and CD symptoms. Journal of Personality and Social Psychology, 118(6), 1226–1246.

Lahey, B. B., Rathouz, P. J., Lee, S. S., Chronis-Tuscano, A., Pelham, W. E., Waldman, I. D., & Cook, E. H. (2011). Interactions between early parenting and a polymorphism of the child's dopamine transporter gene in predicting future child conduct disorder symptoms. Journal of Abnormal Psychology, 120(1), 33–45.

Marsh, J. K., Burke, C. T., & De Los Reyes, A. (2016). The sweet spot of clinical intuitions: Predictors of the effects of context on impressions of conduct disorder symptoms. Psychological Assessment, 28(2), 181–193.

QUESTION 4
What are three warning signs that put a child at risk for very young offending? To select and enter your answer go to .
---