Healthcare Training Institute -

Quality Education since 1979
CE for Psychologist, Social Worker, Counselor, & MFT!!

Section 24
The Squiggle-Drawing Game
| |

The mechanics of the game are introduced after ascertaining that the child is interested and willing to draw. The child is asked if he would like to play a "fun drawing game-the squiggle-drawing game."
The game is explained as follows: "Each of us will have a piece of paper and a pencil. I will draw a squiggle and you will make any kind of drawing you like out of it, then you'll make up a story about your drawing, and I will ask a few questions about it (your drawing and story). Then you will draw a squiggle which I will make a drawing out of, tell a story about it, and you can ask me questions about it." Thus the game. involves making a drawing out of a squiggle, telling a story, asking and being asked questions and taking turns. A squiggle is any variation of a straight, curved, wavy or zigzag line. Skill in drawing is unimportant, and there is mutual interaction and sharing of thematic material. After the explanation, or while giving it, the therapist and child sit down side by side at a table or desk. The therapist provides the child and himself with paper and pencil for drawing. He also provides himself with a piece of paper for taking notes. The therapist initiates the game by drawing the first squiggle on which the child is supposed to build. It is desirable for the child to develop the first story so that the therapist is better able to decide what theme to use on his turn. If the child does not understand the directions, the order may be reversed and the child draws the first squiggle. Once initiated, the game is continued as long as it is therapeutically productive and interactively enjoyable. The following examples illustrate the child's response in playing the game: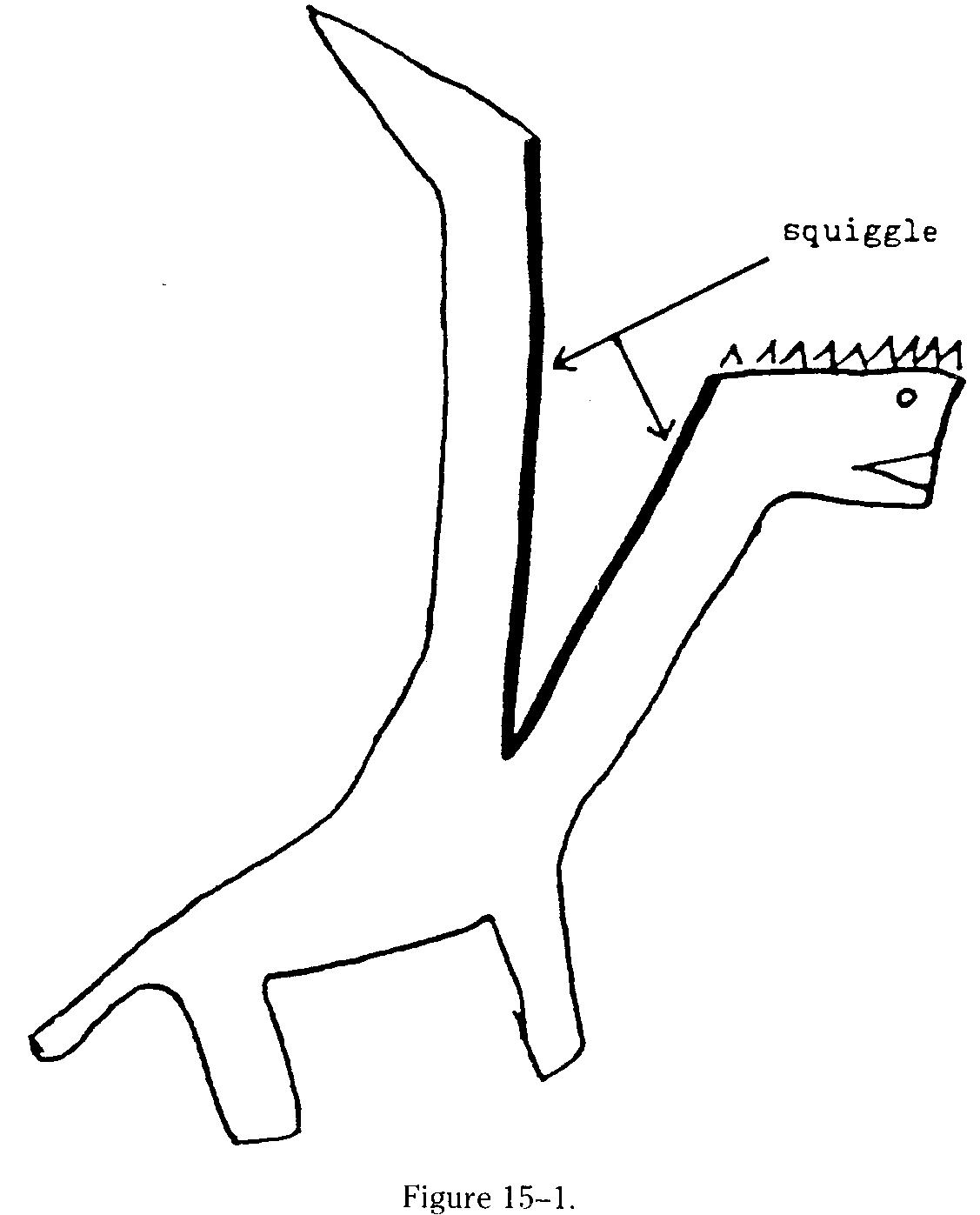 Case 1
Aaron, an 11-year-old boy, was in psychotherapy because of compulsive rituals which he used to ward off angry feelings. He was a shy, quiet boy of above-average intelligence who did well in school but had poor peer relations. He appeared to be a good candidate for a drawing game since one of his rituals was drawing detailed maps. The squiggle-drawing game was introduced in the third interview. In the fourth interview, his third drawing (Figure 15-1) was of a "prehistoric animal who survived in a warm valley and finally found a friend of his own kind outside the valley and wasn't sad anymore because he had a friend." This clearly dealt with his peer relationship problem.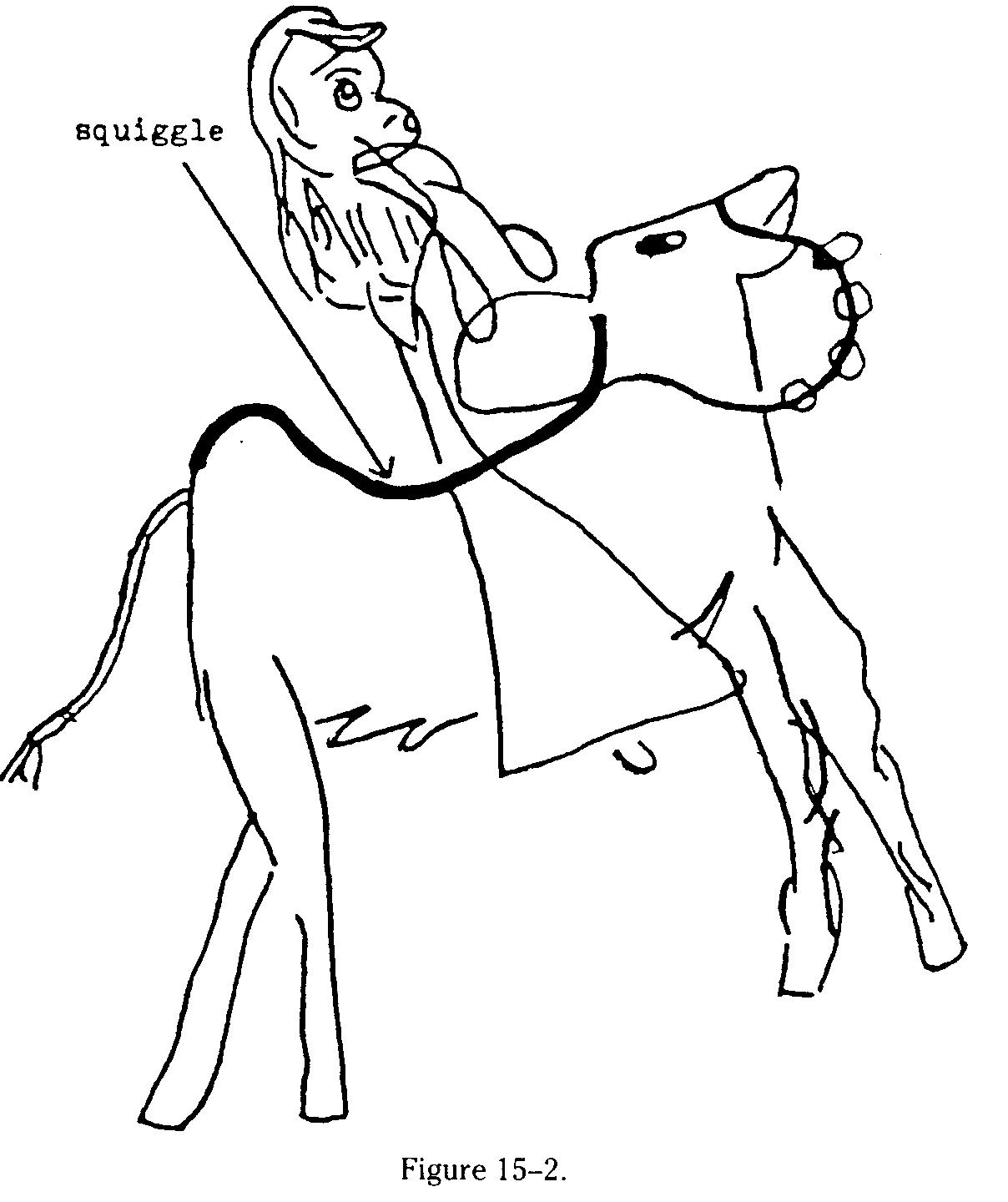 Case 2
Beth, an 11 '/2-year-old girl, had been seen in psychotherapy every other week for almost two years because of behavior difficulties, poor school performance despite average intelligence, feelings of insecurity and inadequacy, poor self-image, and poor peer relations. She made good use of projective game techniques including the squiggle-drawing game. Two months before terminating treatment, she was physically in early adolescence without having started her menses. She played the squiggle drawing game and her second drawing (Figure 15-2) was of "Cleopatra riding on her camel and having snakes on her head.. . kings and queens of Egypt have snakes on their head.. . Cleopatra is going to exercise and ride all over the desert." The drawing and thematic material suggested a significant improvement in her self-image through identification with Cleopatra.
Therapist's Role
The role of the therapist in the game is to carry out an empathic, collaborative, interactive psychotherapy focused on the child's problems and stage of development. The therapist is guided by the content and structure of the child's drawings and stories to help the child express his thoughts, feelings, and concerns in displaced, thematic form. The therapist shares through his own drawings and stories his understanding of the child's problems and suggests possible solutions. The therapist is not only challenged by this technique, but is helped in the process because the participant child enjoys his own drawing and story-telling as well as the therapist's. The game is truly collaborative and is part of an ego-oriented psychotherapy.
- Schaefer, Charles & Donna Cangelosi, Play Therapy Techniques, Jason Aronson Inc.: 1993.

THE FILIAL PROGRAM: FOSTERING IMPROVED CLOSENESS AND PARENTING
SKILL IN FATHER-CHILD RELATIONSHIPS THROUGH PLAY

- Ginsberg, B. G.,Training parents as therapeutic agents with foster/adoptive children using the filial approach., In Shaeffer C. E.,; Breitmeister, J. E., Handbook of parent training, Parents as co-therapists for children's behavior problems, 442-478, 1989.
Personal Reflection Exercise #10
The preceding section contained information about the squiggle game. Write three case study examples regarding how you might use the content of this section in your practice.

Peer-Reviewed Journal Article References:
Halfon, S., Yılmaz, M., & Çavdar, A. (2019). Mentalization, session-to-session negative emotion expression, symbolic play, and affect regulation in psychodynamic child psychotherapy. Psychotherapy, 56(4), 555–567.

Meany-Walen, K. K., Cobie-Nuss, A., Eittreim, E., Teeling, S., Wilson, S., & Xander, C. (2018). Play therapists' perceptions of wellness and self-care practices. International Journal of Play Therapy, 27(3), 176–186.

Siu, A. F. Y. (2021). Does age make a difference when incorporating music as a rhythmic-mediated component in a theraplay-based program to facilitate attunement of preschool children with social impairment? International Journal of Play Therapy, 30(2), 136–145.
QUESTION 24
Why was Aaron a good candidate for the squiggle game? To select and enter your answer go to .
---